Most sales managers think that the ability to build strong relationships is the secret to successful sales people. Paul Cherry disagrees. In his new book, The Ultimate Sales Pro: What The Best Sales People Do Differently, Cherry shares the features that make for successful sales in the modern era of buying.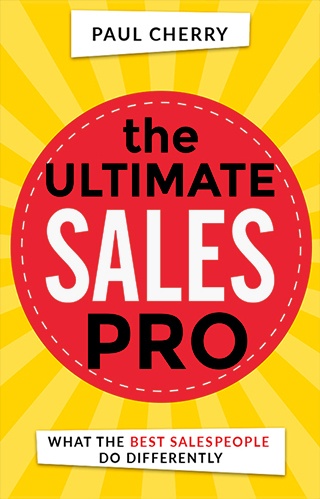 For Cherry, there are four attributes that make a successful sales person:
1. Building and managing relationships
While it's not the only skill that matters to success, a sales person can't succeed if they don't have the ability to connect with prospects and engage with them. People who don't like interacting with others or who are awkward with others will often struggle in a sales role. And those who genuinely like other people and are interested in them are more likely to find success in selling roles.
2. Discovering and probing in order to propose effective solutions
For sales people who sell complex products, services or solutions, the sales process is usually long and involves many people. Selling is not bidda-bing-bidda-boom. It takes the ability to probe to understand customers' true needs, and determine the right solution (even if it isn't what that sales person is selling). Successful sales people today are champions at appropriately probing a client's situation to objectively assess their needs and identifying the right solution for them.
3. Confidence
Sales people have tough jobs – they have to connect with powerful people (or people who think they're powerful), work through their barriers, challenge them rather than merely going along with what they think they want, convince them of a solution, and then coordinate the logistics to have them sign a contract. All that takes a lot of work, and a lot of confidence. Great sales people are never arrogant. But they are confident.
4.
Focus on Results
Good sales people are always focusing on three outcomes – for their clients, for their own companies and for themselves. They know that focusing on just one of those 3 areas of results doesn't lead to success.
The Long and Short Game of Sales
The Ultimate Sales Pro is a great practical overview of what sales people need to do now to be successful. Cherry teaches sales people how to master the long game and the short game of sales.
For the long game, the book starts by helping sales people take a step back from the day-to-day tasks of their sales careers, and reconnect with the big picture. Why do they do what they do, why they're good at it, and what they can do to be successful for the long term.
For the short game, Cherry shares practical examples of effective sales techniques, including how to 'get past BS from prospects' (ask blunt questions, gently), staying inquisitive, and slowing down the sales process in order to get better outcomes.
What About The Relationship Between Sales and Marketing?
When it comes to marketing, Cherry has seen the good the bad and the ugly of sales and marketing teams working together. He says the biggest gap between a company's potential and its reality is when sales and marketing don't work well together.
How to get beyond this?
He says the best remedy is combined KPI's where the group gets an incentive based on accomplishing mutual goals, and when both teams hold each other accountable.
The Ultimate Sales Pro is a great read full of practical and sage advice. I recommend it for anyone new or experienced in a sales career.